Vantan, with the cooperation of Fast Retailing, exhibited the "Gradation" borderless fashion collection—which eliminates barriers such as gender and age—at UNIQLO Ginza
Vantan members and Fast Retailing employees discussed and created outfits that break conventional stereotypes such as skirts for women and children's clothing for children
Vantan will continue to promote practical education linked closely to society, with respect for individuality and diversity, and with a view to product development linked directly to SDGs
Vantan—which operates schools in the creative field—exhibited the "Gradation" collection proposing new borderless fashion at the UNIQLO Ginza store from July 19 until August 27, 2021. The outfits (24 patterns in total) make use of products actually sold at UNIQLO stores to express a new borderless and sustainable fashion concept that breaks down conventional stereotypes of gender, age and nationality.
Vantan operates six schools, including the Vantan Design Institute, where it offers a wide range of courses, from fashion, hair and makeup, and graphic design, to games and anime, confectionery and cooking, beauty, IT, AI, internet video production, etc., with the vision of creating schools that are the closest to society in the world. Each school prepares students to work and make immediate contributions to society through practical education that incorporates long-term internships, joint projects between industry and academia, collaborations with companies, and classes taught by lecturers currently top performers in their fields.

As part of such joint industry-academia projects and collaborations with companies, Vantan has implemented a number of projects that relate to SDGs.

In November 2020, for example, members of the Vantan Design Institute (Vantan refers to its students as "members") participated in the art and music festival "HAND! in Yamanote Line - 15 days to enjoy art and music on the Yamanote Line" set at all 30 stations of the JR Yamanote Line which is operated by JR East. A "Sustainable Art Station Ebisu" exhibition was also held inside the West Exit ticket gate area of Ebisu Station, the nearest station to the Tokyo school, exhibiting art created using waste materials from JR East. In addition to daily waste materials such as ticket roll cores and cardboard boxes generated by Ebisu Station, students' unwanted clothes and scraps of fabric left over from classes were also used to create objects resembling flower beds, finished in a design that also allowed them to be used as benches.

In July 2021, the company launched Vantan Shokudo, a ghost kitchen (dedicated to deliveries only) aiming to achieve zero food loss, at L'ecole Vantan in Osaka, a vocational college for confectionery, café, and cooking studies. Members of L'ecole Vantan's vocational college and high school handle a series of processes, from menu item development to cooking and packaging materials management. When conducting cooking classes at the school, there was a wish to reduce the food loss that inevitably occurs, while providing delicious meals even when it is difficult to eat out (due to the COVID-19 pandemic). The kitchen offers reasonably priced dishes created using surplus ingredients, along with several ¥500 "one coin" lunches, which are rarely offered by delivery services.

Now, Vantan is presenting highly diverse borderless fashion styles with its "Gradation" collection. The initiative was implemented as part of "UNSTEREOTYPE School," a next-generation education program being conducted by Fast Retailing, which operates fashion brands such as UNIQLO and GU.

"UNSTEREOTYPE School" is a project in which Fast Retailing is working with various educational institutions. It is based on the concept of "aiming to co-create a world where everyone can visualize and pursue their own vision of their future self, by becoming aware—from the familiar starting point of clothing—of the various stereotypes that each person unconsciously holds, and being mindful of them.

A total of 80 Vantan members participated in the project, including 40 from the Tokyo school and 40 from Osaka. Members learned about stereotypes in apparel together with Fast Retailing employees and created new proposals for breaking down those stereotypes.

"Members were divided into four teams, with each team also including one Fast Retailing employee. In the project, each team discussed the stereotypes they had, considered solutions for breaking down those stereotypes, then gave a presentation. The idea was to create diverse fashion styles from the proposals made by each team, which would then be explored by all participants together, culminating in the 'Gradation' exhibition." (Riki Kawanami, Public Relations Manager, Media Marketing Department, Vantan Inc.)

The "Gradation" collection proposes ways to choose new clothing that are not dependent on gender, age, or nationality. Members identified stereotypes such as why women must wear skirts and children must only wear children's clothing, and came up with fashion ideas to break them down. Members were also given the opportunity to interact with the models who would wear the collection, and selected items to complete their borderless outfits after asking questions such as, "What style do you really want to wear?"

"After hypothesizing that it was not necessary for a middle-aged man to wear plain-looking clothes, or for children to wear child-sized clothes, we actually interviewed middle-aged men, children and sexual minorities to prove our theories and create the collection." (Kawanami)

The title of the collection, "Gradation" conveys the image of overcoming boundaries such as gender, age and nationality, and recognizing each other's differences through fashion. All items were made from products currently sold at UNIQLO, and the exhibition was designed to show the freedom of coordination without being bound by conventional categories such as women's, men's, adult's or children's clothing, or attributes such as size.

One of the reasons for implementing various initiatives geared toward achieving SDGs is that Vantan aims to operate schools that are close to society, as mentioned before.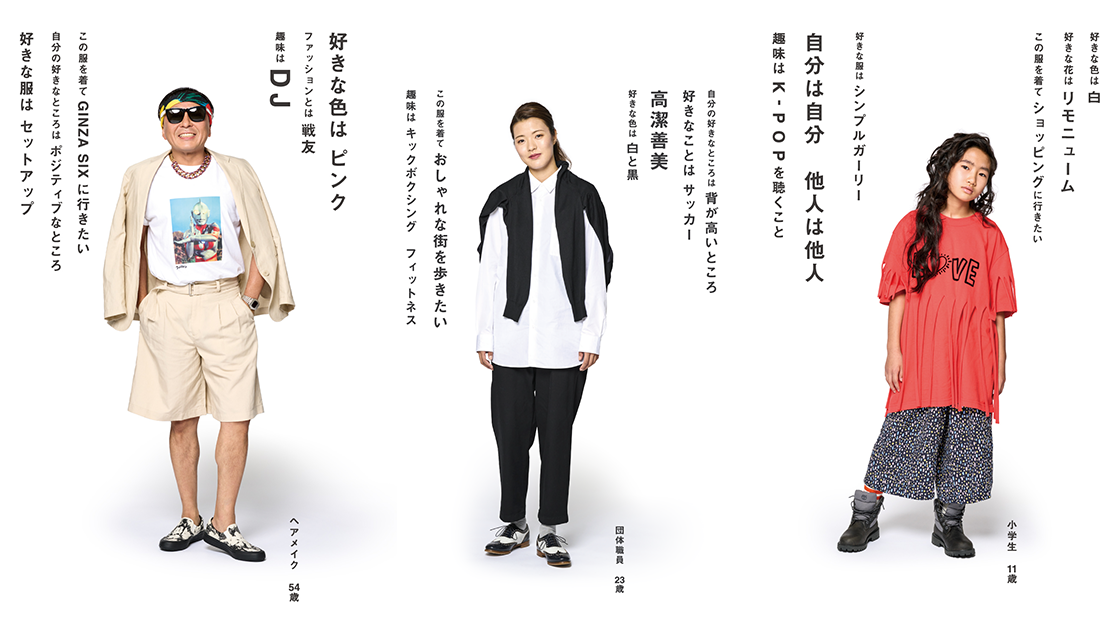 "In today's world, where information obtained from textbooks can often be easily found on the Internet, experience offers advantages over classroom study alone. From this perspective, we want to focus on practical education so that members can learn skills that they will be able to utilize when they enter society. This is why each of Vantan's schools develops programs that are as close to the actual field as possible. We also value the individuality of our members very highly. It could be said that this culture of freedom and respect for individuality is at the root of each school's values. By continuing programs such as these with a key emphasis on culture, I think that products directly linked to SDGs will be created naturally. We would like to continue collaborating with various companies to drive initiatives that will enhance the liberation of individuality and diversity and lead to the resolution of social issues." (Kawanami)