Creating New Intellectual Property Centered around Publications

KADOKAWA group continuously publishes new creative works, amounting to some 5,000 titles each year, creating intellectual property in a wide range of categories, including literature, light novels, comics, children's books, business books, education books, and lifestyle-related publications.
In addition to paper and digital publishing, we also connect our publishing with the internet, video distribution, events, merchandise, and more. We also have developed various e-book platforms centered around BOOK☆WALKER, a comprehensive e-book store, and actively work to discover UGC (User Generated Content) and develop new authors. We are also involved in overseas expansion with translated versions of popular series and original local works.
Going forward, everyone at KADOKAWA will work towards a comprehensive publishing strategy that goes beyond the boundaries of genre and work to improve our ability to create works that are the source of media mix.
---
---
Books
Literature
We operate different imprints, including "KADOKAWA Bunko", "KADOKAWA Horror Bunko", and publish more than 300 works of fiction, primarily novels, including the works published in "Shosetsu Yaseijidai", a literary e-magazine. The literature business actively cooperates with other departments, such as digital business, media mix, and overseas business, and is developing publications by anticipating the coming era.
---

---
Business books, how-to books, lifestyle books, and non-fiction
We provide content related to work, living, and learning that increases readers' quality of life and knowledge. A wide variety of books are included in this category, such as business books, how-to books, lifestyle books, non-fiction, translations, essays told in pictures, study guides, language learning books, academic books, and dictionaries. The "KADOKAWA Shinsho", "KADOKAWA Sophia Bunko", and "KADOKAWA Sensho" imprints are also included. We hold seminars and sell merchandise.
---

---
Light novels and new literature
Since we established the light novel category, we have consistently published hit series. Our media mix includes animation, games, comics created based on novels etc., and goods.We publish light novels that have continued to start various movements as well as new web and UGC-based literature that is rising in popularity. Different labels are always discovering new talent from among the writers winning new-writer awards and from the Web and UGC and providing entertaining novels that are adored by readers.
---

---
Children's books
KADOKAWA publishes a wide range of books for different growth stages, including picture books for infants to preschool children, character books, the "KADOKAWA Manga Gakushu Series", including Nihon no Rekishi (History of Japan), and "KADOKAWA Tsubasa Bunko", a collection of books for children. We are considering digital books and books for overseas markets.
---

---
Comics
KADOKAWA has published many works targeting readers aware of trends in society under the theme, "always anticipating the needs of the times" and has received many manga awards. In recent years, it publishes an increasing number of translated overseas works and electronic works distributed through the "ComicWalker" website before the publication of printed magazines. KADOKAWA also publishes works for overseas markets.
---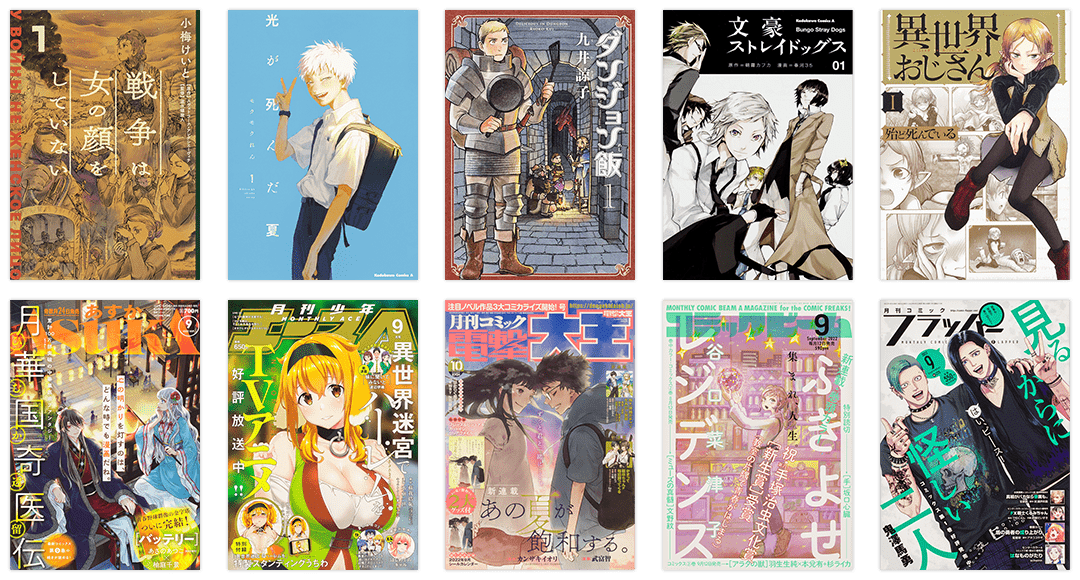 ---
e-books
e-books, online platforms
Digitalization that responds to changes in the market continues to progress at KADOKAWA group. We sell both paper and electronic formats for many books and magazines, and these are offered through various e-book stores.
Over a million e-books from over 1,200 publishers are sold on "BOOK☆WALKER", a comprehensive e-book store directly operated by our Group.
We also operate "ComicWalker", a free manga site, and "Kakuyomu", a web novel site, and work to discover UGC (User Generated Content).
We will continue to expand our services for both paper and digital formats so that customers can enjoy content on a variety of devices.
---
TATESC COMICS
TATESC COMICS is a comic label of horizontally scrolling comics that can be casually read on a smartphone. We are distributing a large volume of Japanese-produced, vivid, full color, horizontally scrolling comics both in Japan and abroad, from original content to popular KADOKAWA titles, such as BUNGO STRAY DOGS and Bloom Into You.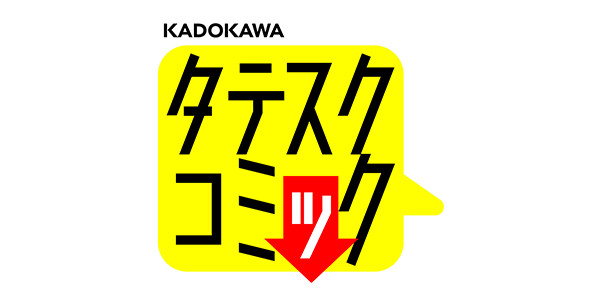 https://tatesc-comic.com/
---
Magazines and mooks
We distribute magazines for a variety of generations and hobbies. This includes "Monthly The Television", an informational magazine onTV, "Chara Parfait", character and game informational magazine for girls, Lettuce Club", a lifestyle informational magazine, "Weekly Famitsu", a comprehensive game magazine, "Newtype", which includes the latest anime information, "Da Vinci", which introduces seasonal books and comics.
---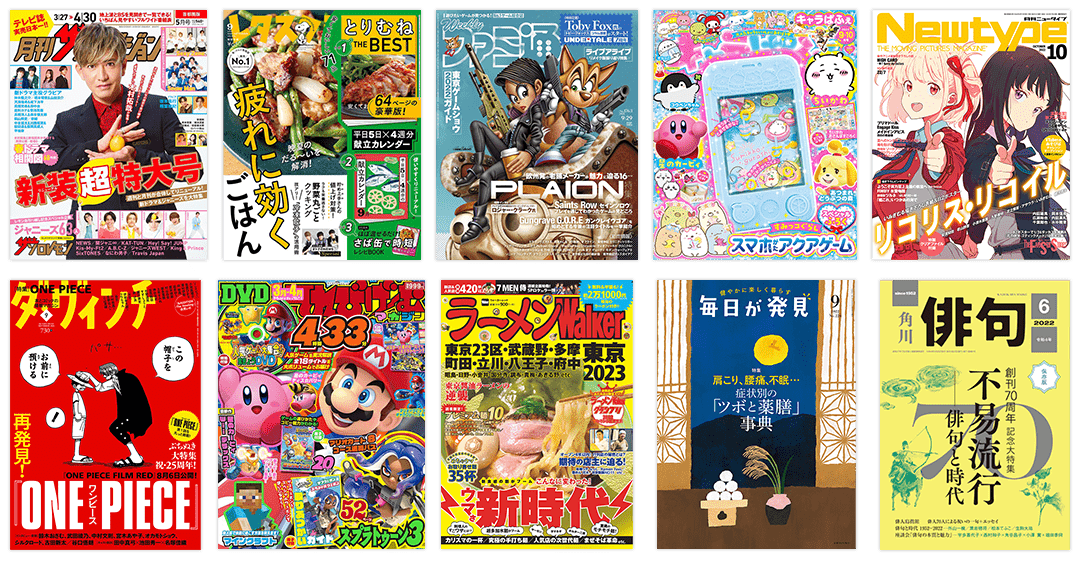 ---
Web media
We operate web media in a variety of genres, including: Walkerplus, a trend and trip information website; WEB The Television, an art and entertainment information website; Lettuce Club (WEB), a lifestyle information website; ASCII.jp, a comprehensive IT information website; Da Vinci Web, a portal site for books and comics; and Famitsu.com, an integrated entertainment information website.
---
Group companies
---
KADOKAWA ASCII Research Laboratories, Inc.

Widely engaged in research, consulting, marketing, the solution business, publishing, educational support projects, and more as the media research lab for the KADOKAWA Group. They work towards resolving customers' problems by comprehensively showcasing the Group's abundance of strengths in content, media, and research.

KADOKAWA UPLINK INC.

KADOKAWA UPLINK, headquartered in Okinawa, supports the base of the comprehensive content, including books, magazines, movies, animation and games, of KADOKAWA under different brands.
KADOKAWA UPLINK transmits a range of different types of entertainment information.

KADOKAWA KEY-PROCESS Co., Ltd.

KADOKAWA KEY-PROCESS is a production company that continues to evolve prepress techniques and completely control data to produce multiple types of publication content.

KADOKAWA Game Linkage Inc.

KADOKAWA Game Linkage is attempting to create new value related to games. It develops game media, including publications under the brands of "Famitsu" and "Game no Dengeki", online services and video distribution, produces gaming team "FAV gaming", and plans e-sports events.
It will increase the excitement from games to users and will bring the fun of games to more people.

Kadokawa Book Navi Co.

Kadokawa Book Navi promotes sales for a variety of publications of the KADOKAWA group. Staff nationwide regularly visit bookstores and propose displays based on information about hit products and video adaptations. The motto is "Be a bridge between KADOKAWA and readers through the maintenance of displays at bookstores."

CHOUBUNSHA PUBLISHING CO., LTD.

CHOUBUNSHA publishes primarily children's books. It has published a number of serials, which are placed in schools and public libraries. The company aims to publish books that call for children to think about the importance of life and peace, primarily the two bestselling series Hadashi no Gen and Sekai de Ichiban Mazushii Daitoryo.

BOOK WALKER Co.,Ltd.

In addition to operating BOOK☆WALKER, a comprehensive e-book store, and the Global Store aimed at the English market, they conduct business related to the various aspects of e-books. They also develop and operate NicoNico Manga, a manga submission service, bookmeter, a reading management service, and d Magazine, an e-book distribution business focused on the KADOKAWA Group's content in cooperation with NTT docomo.

Mainichi ga Hakken Inc.

They are involved in the mail order business for seniors through Mainichi ga Hakken, a subscription publication for seniors, the publishing business for 3minutes Cooking, a magazine, book publishing, and Mainichi ga Hakken Shopping, a mail order catalog.

GeeXPlus, Inc.

A marketing company that employs non-Japanese influencers who love Japanese anime, manga, light novels, and games. They plan promotions using their own influences, create video, and distribute this video, targeting the English-speaking world.

Building Book Center Co.,Ltd.

Building Book Center plays an important role to connect content and customers, including production of the KADOKAWA group's publications and online sales of books and goods. At "Tokorozawa Sakura Town", the company will produce and distribute high-quality publications faster than ever, leveraging cutting-edge equipment.

ANIME NEWS NETWORK LLC

Anime News Network LLC engages in the media business focused on distribution of the latest news concerning Japanese anime, manga, light novels and other entertainment content to its English-speaking market userbase in North America and other parts of the world. ANN also operates a content database and community forums for its users to interact on its website and has established its position as one of the largest platforms specialized in its field in North America.

BOOKWALKER TAIWAN CO. Ltd.

Since February 2016, BOOKWALKER TAIWAN has offered the "BOOK☆WALKER TAIWAN" service, a traditional Chinese language e-book store. They offer a pleasant digital reading environment through comprehensive technical cooperation with Japan's BOOK☆WALKER, as well as showcasing the charm of Japanese e-books to Chinese readers (traditional characters) focusing mainly on Taiwan.

GUANGZHOU TIANWEN KADOKAWA ANIMATION & COMICS CO., LTD.

Founded in Guangzhou, China in 2010. In addition to translating and publishing light novels, literary novels, manga, and collections of paintings, they develop and publish their own Chinese intellectual property. They also work in new fields outside of publishing, including merchandise and anime.

JNC Nina GmbH

Established in 2023. JNC Nina builds upon the English language market success of J-Novel Club in distributing Japanese light novels and manga by expanding its electronic book publications and subscription-based services to readers in the French and German-speaking markets.

J-Novel Club LLC

Founded in 2016, J-Novel Club (JNC) engages in the English publication of Japanese light novels and manga and operates a digital subscription service platform. For North America and other English-speaking markets, JNC streams the latest translated chapters through its digital subscription service platform and distributes e-Book format publications of the same titles through major English online stores.

KADOKAWA AMARIN COMPANY LIMITED

KADOKAWA AMARIN was founded in 2016 by KADOKAWA and AMARIN, the largest publisher in Thailand. In addition to publishing light novels and comics, they also sell merchandise at events in Thailand. They develop a wide range of businesses, including the development of virtual characters, e-books, and e-commerce.

KADOKAWA GEMPAK STARZ SDN. BHD.

KADOKAWA GEMPAK STARZ is a major publisher of comics and books for children in Malaysia. In 2015, KADOKAWA acquired a stake in it. The company aims to maximize the value of its content by expanding its product lines. It is actively expanding into countries in Southeast Asia, greater China, and English-speaking countries.

KADOKAWA HONGKONG LTD.

Founded in 2005. The only Japanese media company in Hong Kong.They deliver information on Japanese food, travel, and trending culture to Japan lovers in Hong Kong through social media, their website, and other online platforms, "the Japan Walker @HK magazine" (formerly "Hong Kong Walker"), and events held in Hong Kong.


KADOKAWA TAIWAN CORPORATION

Founded in 1999. With eyes fixed on the future of the market of e-books in traditional Chinese characters, BOOKWALKER TAIWAN was founded in 2015 as a subsidiary to transplant the system and knowledge from "BOOK☆WALKER", a Japanese e-book site.
In 2019, the Walker business was spun off and WalkerMedia was founded, speeding up the digital transformation. Taiwan KADOKAWA has become the core of the KADOKAWA Group's overseas strategy, growing to become a website that boasts the most views in the Taiwanese travel cuisine field.

YEN PRESS, LLC.

YEN PRESS was established in 2016 as a joint venture with Hachette Book Group, a major US publisher. YEN PRESS is a leading company in the Japanese light novel market in North America. It is also actively expanding business, including development of original works and entry into other English-speaking countries.