Maximizing media mix between books and anime as the video business of a publishing company

In the video business, we plan, produce, and distribute movies, grant the rights to distribute movies, sell package software, and more.
We also develop businesses to maximize media mix between books and anime as the video business of a publishing company.
---
---
Live-action
The parent organizations of the video business of KADOKAWA are Kadokawa Pictures, Daiei Film, and Nippon Herald Films. We produced major movies, including KU-KAI: Mystery of a Beautiful Queen, a Japanese-Chinese movie, and Fukushima 50, which won the 44th Japan Academy Film Prize in twelve different categories. We plan, produce, distribute, and advertise theatrical films and also distribute and stream them in other media formats and online based on the original works of KADOKAWA. We also distribute and advertise excellent foreign films and provide foreign dramas.
---

©2020 "Fukushima 50" Film Partners
©2020 "Mother" Film Partners
©1960-2019 The Bert Stern Trust All Rights Reserved.
©2021 "The Family" Film Partners
©2021 "First Love" Film Partners
---
Animation
KADOKAWA Anime was founded with the following mission as the video department of a publisher: Adapting books of the publisher into animation and maximizing both businesses. It continues to produce cutting-edge hits.
In addition to TV series adapted from KADOKAWA books, KADOKAWA Anime presents many high-end original works and animation adapted from the original works of other companies. It continues to take on challenges to expand the fields related to intellectual property, including distribution, overseas operation, the creation of games based on animation, and the adaptation of popular TV series into theatrical animation.
---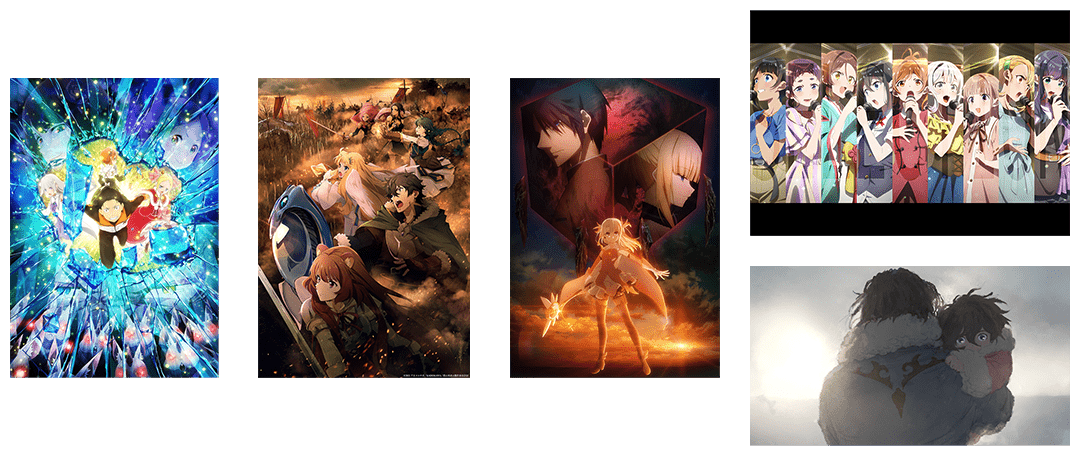 ©Tappei Nagatsuki, Published by KADOKAWA CORPORATION, Re: ZERO –Starting Life in Another World– 2 Production Committee
©2021 Aneko Yusagi/KADOKAWA/Shield Hero S2 production committee
©2021 Hiroshi Hiroyama・TYPE-MOON/KADOKAWA/PrismaIllya Licht Nameless Girl the Movie Partners
©SELECTION PROJECT
©2020 "The Deer King" Film Partners
---
Group companies
---
ENGI Co.Ltd.

ENGI is a hybrid digital animation production studio that was created by three companies: KADOKAWA CORPORATION, which owns a wealth of content, primarily publications and videos, Sammy Inc., and ULTRA SUPER PICTURES. Taking advantage of the strong support of these three companies, ENGI will strive to create content using new video expressions that leverage cutting-edge technologies.

KADOKAWA Architecture Co., Ltd.

KADOKAWA Architecture is a joint venture that engages in new content services and business related to KanColle(Kantai Collection) with C2 Präparat Inc., which plans, develops, and operates KanColle. KADOKAWA Architecture is the KanColle license contact company.

KADOKAWA DAIEI STUDIO CO., LTD.

KADOKAWA DAIEI STUDIO is a studio that produces movies and TV dramas, shoots commercial films, and edits videos. In addition to providing "functions and human power" facilities and equipment, the studio provides human power that uses the functions to meet the needs of producers. That is the tradition and individuality of KADOKAWA DAIEI STUDIO.

Glovision Inc.

Glovision is a production company that engages in localization—dubbing and subtitling overseas movies and dramas—and sound production for animation and games. Glovision responds to all needs in media localization and sound production at the Kudan Studio, where cutting-edge technologies, including Dolby Atmos and 4K, are available.

Studio KADAN Co.Ltd.

Studio KADAN is a production studio led by Hiroyuki Seshita, one of Japan's most renowned 3DCG animation directors, having worked on the Knights of Sidonia series for TV and the animated film, BLAME!. In addition to producing full 3DCG cell shading CG animations, they produce a variety of digital entertainment, including XR using 3D modeling, projection mapping, and game-compatible images. They also produce visual effects for live-action movies and produce large-scale works of intellectual property for the global market.

MOVIE WALKER Co., Ltd.

MOVIE WALKER defines its mission as increasing movie goers and operates "Movieticket", digital movie ticket service, and "MOVIE WALKER", a site providing information on movies. It publishes Monthly Cinecon Walker, a magazine distributed at movie theaters, and DVD & Video Distribution Data magazine. In addition, it engages in advertisements related to movies and content production.

KADOKAWA QINGYU (SHANGHAI) CULTURE & CREATION CO., LTD.

Founded in Shanghai, China in 2018. A company with a new business model that creates drafts for games, anime, and more (stories, character design) and developing original domestically-produced intellectual property in China through collaboration between Chinese IP companies and the KADOKAWA Group, utilizing the ability to create intellectual property.