As one aspect of corporate social responsibilities, there is an increasing number of cases where special subsidiaries are being established to create employment opportunities for staffs with disabilities
KADOKAWA CRAFT—a special subsidiary of the KADOKAWA Group—aims to establish and sustain these activities as a business
The company is engaged in a variety of operations such as the coffee business, which are rewarding and future-oriented for staff with disabilities, with a view of becoming independent entrepreneurs and establishing their own businesses in the future
KADOKAWA CRAFT INC.—a special subsidiary for the employment of persons with disabilities—is engaged in multiple business operations working with staff with disabilities. One key pillar of its operations is the coffee business. But why is the KADOKAWA Group—which delivers a Global Media Mix—getting involved in the coffee industry? The intention is to create an independent and sustainable business, and envisage a future for the staff.
KADOKAWA CRAFT was established in June 2019, and certified as a special subsidiary for the purpose of employing people with disabilities in September of the same year. A major distinguishing feature of KADOKAWA CRAFT is that it is "independent and sustainable," explains Satoshi Kawada, one of its members of the board.
"While the direction and purpose of special subsidiaries usually tend to be welfare-focused, we aim to become independent and contribute as an operating company in the context of the KADOKAWA Group's business." (Kawada)
For this reason, KADOKAWA CRAFT's major goals are to become properly independent, create a revenue structure that allows continuous employment of its employees, and enable each and every staff member who works at the company—regardless of their physical or mental disabilities—to feel job satisfaction and acquire skills for the future.

The company currently has three main business operations: the Operation Support Business, focused primarily on supporting editing and publishing (the KADOKAWA Group's founding business) and back office operations; the Monozukuri (Craft) Business, which roasts and sells coffee and operates cafes, etc.; and the Kodomo Mirai (Children's Future) Business, which is entrusted with the operation of children's clubs. The Operation Support Business currently has eight staffs with disabilities engaged in e-book proofreading and database input operations for the KADOKAWA Group.
"It is a clerical support business within the KADOKAWA Group, but we are currently also considering dispatch-type work that contributes to the local community; for example, by undertaking a portion of work operations in shopping streets where there is a shortage of manpower. This will also enable staff to acquire new skills. If we can contribute to solving issues such as the shortage of successors and passing on skills and knowledge through such work, we may be able to see our way to the ideal goal of regional revitalization." (Kawada)
In the Monozukuri Business, KADOKAWA CRAFT employees and seven staff with disabilities are engaged in coffee business operations. The reason for focusing on coffee is that, as Kawada says, "coffee is essential to the creation of content such as books and movies." The basis for this thinking is that there are so many coffee lovers not only among KADOKAWA Group staff, but also among the many content creators involved with the Group, including writers, manga artists, illustrators, and animators.

"We selected the coffee business because inventory management is easy, and also because we can develop a wide range of businesses: from the retail of roasted beans to the café business and sales of related merchandise," explains Kawada. There is also the possibility that staff who have acquired skills here can go on to become independent entrepreneurs and start their own businesses in the future.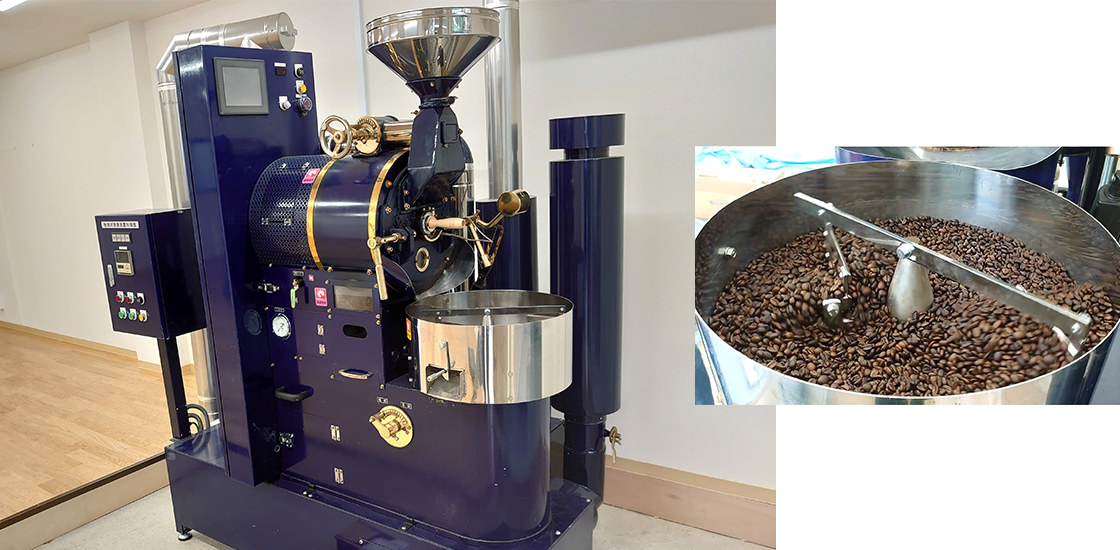 In establishing the business, KADOKAWA CRAFT first introduced a special roasting machine from Key Coffee Inc., a major coffee company that resonates with KADOKAWA CRAFT's philosophy. The machine is safe and easy to handle. The roasting machine, installed at the KADOKAWA CRAFT Higashitokorozawa Roasting Plant in Higashitokorozawa (Tokorozawa, Saitama Prefecture) can roast up to 100 kilograms of coffee beans per day. In addition to selling roasted coffee beans, the company also operates an attached café and online store business.

Roasted coffee beans are served as coffee in the café space at KADOKAWA's new Tokorozawa Campus offices—part of the KADOKAWA Group's large TOKOROZAWA SAKURA TOWN complex, and the restaurant Canteen KADOKAWA, also at that facility. It also supplies blended coffee tailored to specific brand images, such as KADOKAWA's directly managed bookstore the Da Vinci Store, and the SACULA DINER restaurant in the Kadokawa Culture Museum.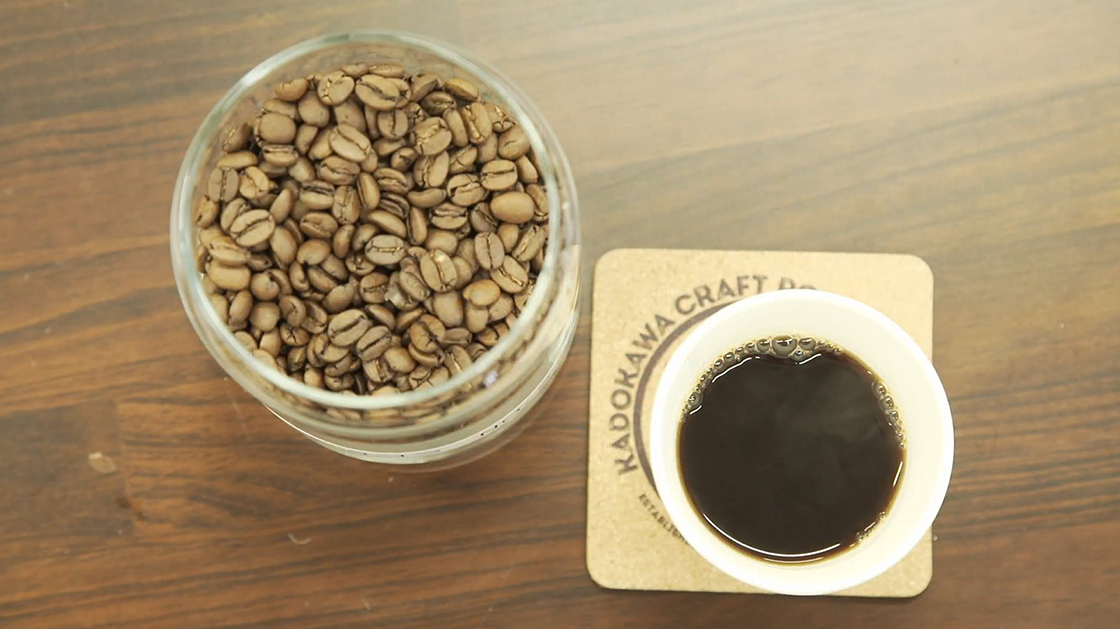 To roast coffee beans, it is first necessary to sort the raw beans. This task cannot be done by machine, and must be performed carefully by human hands. This sorting process is carried out by staff with disabilities. Three qualified staff are also responsible for the roasting process after sorting.
"When roasting is over, we sort the beans again by hand. One of the characteristics of our coffee is that we carefully perform these two sorting operations, both before and after roasting. Thanks to our staff who perform this plain but essential work with a high level of concentration, the quality of the beans will be much better. If we take our time, it will improve the taste, sales will also increase, and we will be able to enjoy the happy voices of customers. We also try to provide feedback on these results so that our staff can see them. It's been a year since we started the coffee business, but it is rewarding work and we were able to create a working environment where nobody has left yet." (Kawada)
The issues of how to increase the number of training opportunities that will lead to future careers for people with disabilities and workplaces that will accept people with disabilities and enable them to continue working for a long time are major social issues. The coffee business also aims to solve these problems.
"In recent years, the number of stores that roast and sell coffee beans has increased in the city. At KADOKAWA CRAFT, too, we will seek not only to increase our numbers of stores, but also look forward to seeing staff who have acquired skills at our company starting their own businesses and setting up shops. The day may come when staff with disabilities at those shops can secure a living for themselves and opportunities to go out into society." (Kawada)

In addition to this business, the company is also advancing the creation of a "cloud working network" to enable staff with disabilities to work from home.
"Some residents living in the local community are very skilled, but they face various environmental constraints and do not have jobs that match their abilities. We want to provide them with opportunities to make full use of their talents," says Kawada.
Without being constrained by the framework of a special subsidiary, KADOKAWA CRAFT aims to produce role models for the next-generation who can make the most of their abilities, regardless of disabilities or their degree of severity, and to become an indispensable presence for the KADOKAWA Group and local communities.
"In the welfare field, there is a concept called inclusion. The impression is that of society embracing people with disabilities. We, on the other hand, aim for the concept of 'emulsion.' An emulsion is a state in which substances which do not mix readily—like water and oil—blend together and become one. In our business, we aim for an emulsion where everyone blends in together naturally, regardless whether they have disabilities or not, as long as they share the same ambition. We believe that if we proceed with our business with this belief, we will surely create a happy society in which everyone can mutually respect each other's humanity."