In 2014, KADOKAWA launched the "Kadokawa Cinema Collection" label to pass down approximately 1,800 of Japan's treasured classic motion picture films to the next generation, and have provided opportunities to view classic films through packaged software, broadcasting, and streaming in addition to screening in theaters.
To reproduce the "look" (colors, etc.) from when the films were released as much as possible and pass down the films to the next generation, KADOKAWA digitalizes the films into 4K.
The restored films are screened in movie theaters in Japan and sold as packaged software. Furthermore, as seen in the example of the screening of Rickshaw Man [Muhomatsu no Issho] in the Venice Classics section of the Venice International Film Festival last year, we promote the excellence of Japanese films in international film festivals as well.
KADOKAWA's filmmaking business originated from the former Kadokawa Pictures, Daiei Film, and Nippon Herald Films and owns approximately 1,800 of Japan's treasurable classic motion picture films including many globally renowned masterpieces such as Akira Kurosawa's Rashomon and Yasujiro Ozu's Floating Weeds [Ukikusa]. In order to pass down such amazing classic films to the next generation, proper film preservation and maintenance as well as digitalization are necessary.
Starting with Legend of the Demon Cat directed by Chen Kaige (2017), a Japan-China co-production movie, and Fukushima 50 directed by Setsuro Wakamatsu (2020) which was nominated for the 44th Japan Academy Film Prizes in 12 categories, KADOKAWA's Contents sales and distribution department provides complete coverage from upstream (production) to downstream (secondary use). More specifically, mainly for films based on KADOKAWA's original stories, we plan, produce, distribute, and advertise movies, grant the rights to distribute movies, make packaged software, and more. Furthermore, we also purchase, grant movie distribution rights, and advertise quality non-Japanese films as well as overseas television dramas.

On the other hand, in addition to new video productions, KADOKAWA owns many classic films and historical masterpieces. KADOKAWA re-screens these valuable works at movie theaters and launched the "Kadokawa Cinema Collection" label and makes packaged software to pass down these productions to the next generation.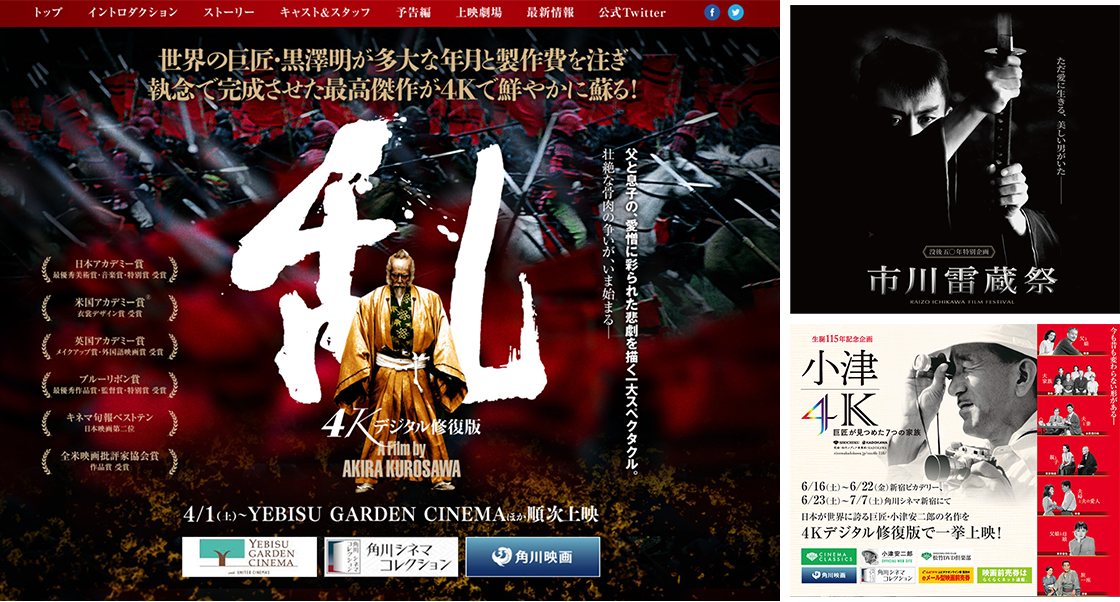 Nowadays, most of the movie theaters use digital projectors to project movies on the big screens, and films can only be screened in certain facilities. Consequently, to screen classic movies again at movie theaters for viewing by many people, the first thing you need is the conversion of information recorded in the film to digital data. For digitalization, the original films must be in good condition. Generally, since films gradually deteriorate over the years, not only is proper preservation and management to prevent deterioration required but care for degraded films is also necessary.

With a grant from the KADOKAWA Culture Promotion Foundation, KADOKAWA launched a project to preserve approximately 1,800 original motion picture films owned by KADOKAWA in 2004. In addition to inspecting the condition and cleaning the old films, we started to reproduce films that were exhibiting signs of accelerated degradation. A tremendous amount of time and effort were required for detailed inspection of all of approximately 1,800 films, and as a result, the inspection continued until March 2008.

"As a result of inspection, we confirmed that many of the original films suffer from advanced degradation caused by the 'vinegar syndrome' where the film base component releases acetic acid due to a chemical reaction with humidity and heat (hydrolysis)," says Masakazu Itsukage, Home Entertainment Division, Literature and Video Business, KADOKAWA.

Thanks to an effort by past project members, we donated original versions of the films to the Sagamihara Conservation Center at the National Film Archive of Japan. At the conservation center, motion picture films are preserved under optimum temperatures and humidity in a 24/7 controlled air conditioning system. However, once a film starts degrading, it is impossible to stop. Therefore, the films are in reality still deteriorating.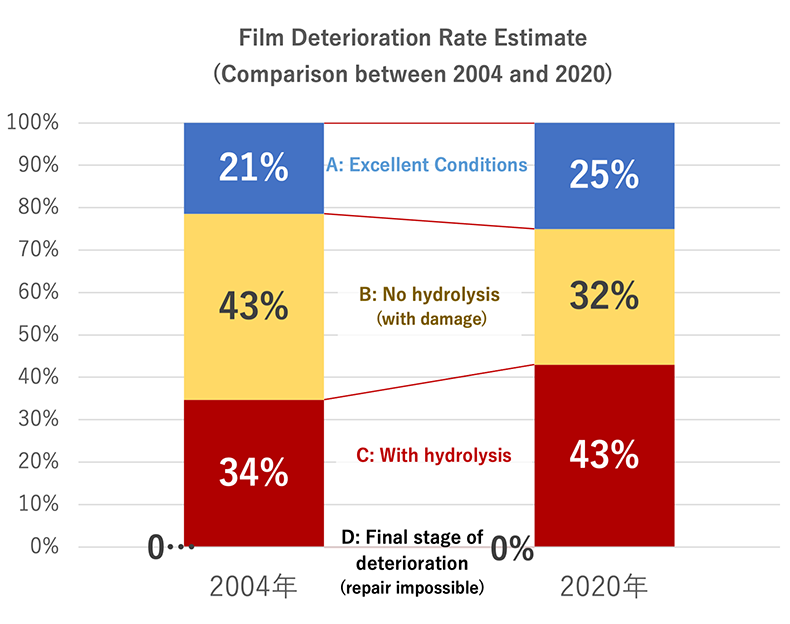 During inspections carried out from 2004 to 2008, films ranked as Rank B, meaning the damage is relatively lower despite exhibiting damage, accounted for 43% of all the films. Today, approximately 15 years have passed, and Rank B films have decreased to 32%. Unfortunately, most of the films were degraded to Rank C, meaning advanced deterioration requiring special repairs even though some films were upgraded by restoration to Rank A (excellent condition). The share of Rank C films increased from 34% to 43% over this time.

KADOKAWA provides constant care of motion picture films for which we have started digitalization including 4K restoration. Specifically, we clean the films during digitalization work and upon returning of the films to the storage room, we use absorbent that absorbs gas generated by the vinegar syndrome.

"A huge amount of data is contained in original motion picture films, and it is beyond the capacity of the general HD standard (2,048×1,080 pixels), which is the dominant high-definition standard. Due to the debut of the 4K standard (4,096×2,160 pixels), finally, we have been able to store nearly all the data from the original films. In the 4K restoration process, we aim to restore how the motion picture looked when it was first released in theaters as much as possible. The key at that time is the "look" including colors. Since colors fade due to deterioration of the film, if we digitalize the film as is, the colors may be different from the original. Therefore, we ask cinematographers or their assistants of the motion picture or cinematographers with knowledge of "how the movies looked" at that time to supervise the color grading in pursuit of reproducing the authentic "look" of the film when it was released." (Itsukage)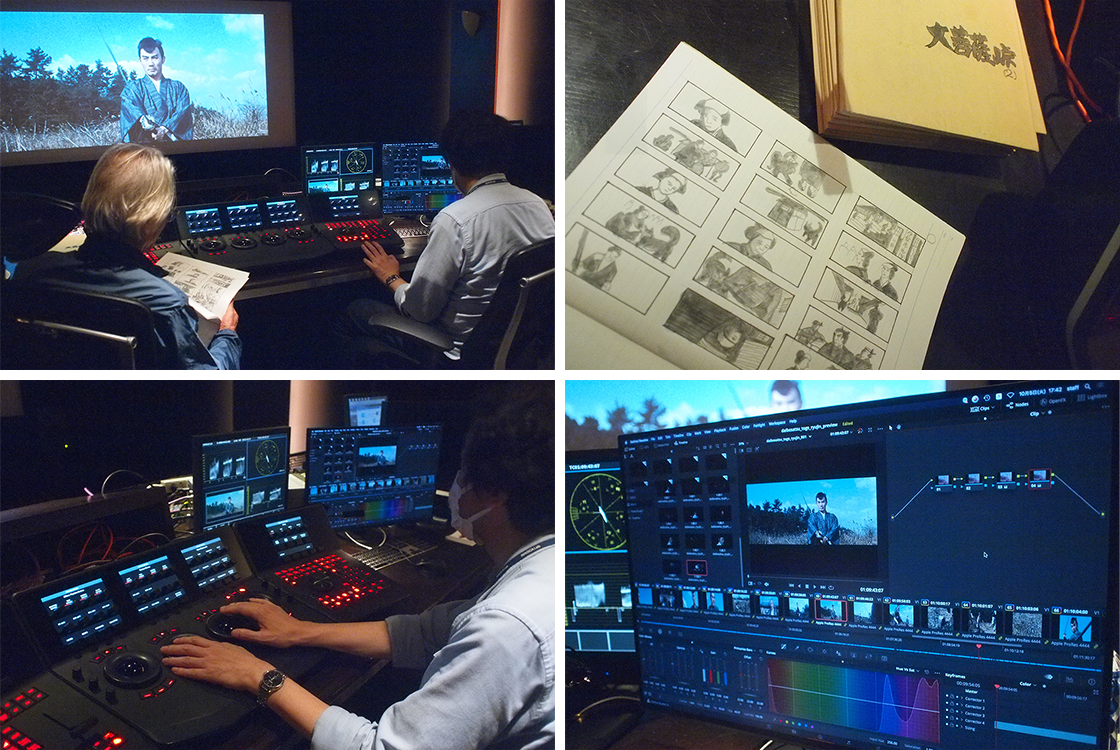 For 4K restoration versions of Her Brother [Ototo], Ugetsu [Ugetsu Monogatari], and A Story from Chikamatsu [Chikamatsu Monogatari], we were successfully able to reproduce the original "look" thanks to supervision by Masahiro Miyajima. Miyajima is well-versed in the characteristics of photography in these motion pictures from his experience working as an assistant to the late Kazuo Miyagawa, who was the cinematographer of well-known Japanese filmmakers such as Hiroshi Inagaki, Kenji Mizoguchi, and Kon Ichikawa. However, completion of 4K digital restoration does not mean the original analog film for the motion pictures are no longer necessary.

"Even after conversion to 4K, we still need the original motion picture film. Original films contain a tremendous amount of data, and when 8K or higher resolution becomes available in the future, we will be able to take more data out of the original films by using technology that will be available at that time. Original films are indispensable for that purpose." (Ituskagae)

KADOKAWA screens motion picture films converted to 4K mainly at festivals held by KADOKAWA twice a year. Recently, we held the "Yokai Tokusatsu Live Action Film Festival" at Kadokawa Cinema Yurakucho (July 16, 2021 to September 2, 2021). Concurrently with the release of the new film of The Great Yokai War: Guardians directed by Takashi Miike (2021), we screened 30 "tokusatsu" live action related films from the KADOKAWA's library. In this festival, 4K restored versions of the Daimajin trilogy comprised of Daimajin directed by Kimiyoshi Yasuda (1966), Wrath of Daimajin [Daimajin Ikaru] directed by Kenji Misumi (1966), and Return of Daimajin [Daimajin Gyakushu] directed by Kazuo Mori (1966) were released for the first time.

Moreover, we are holding the "KADOKAWA Film Festival" in celebration of the 45th anniversary of KADOKAWA FILMS from November 19, 2021. In addition to the re-screening of many motion picture masterpieces that changed the motion picture film history of Japan, a 4K restored version of KADOKAWA FILMS' memorable first motion picture, The Inugami Family [Inugamike no Ichizoku] directed by Kon Ichikawa (1976), will be screened for the first time.

Our initiatives for 4K restoration of classic movies have also garnered attention not only in Japan but also from outside of Japan, which has resulted in premiere screenings of restored masterpieces in film festivals overseas in cooperation with various domestic and overseas partners.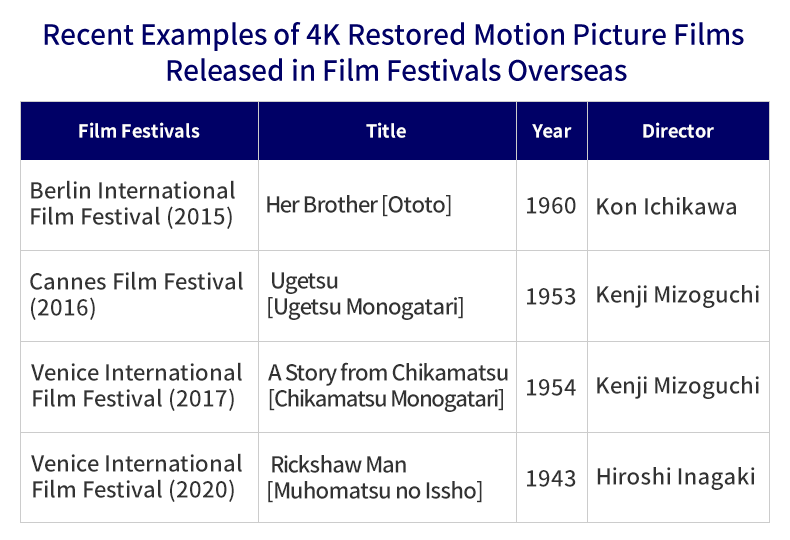 To pass down these treasured original films to the next generation and deliver these works to future audiences, we need to conduct these initiatives continuously as the film industry as a whole. Our initiatives as KADOKAWA including promotion at the bi-annual Kadokawa Cinema Collection are important, and the film industry as a whole also needs to make sustainable efforts.

"Not only conversion of classic films to 4K but also making it possible for many people to watch classic films through screenings and promotion is important. I would like younger people as well to know more about Japan's classic motion picture films created in the golden era of Japan's film making history through the Kadokawa Cinema Collection. These activities should lead to developing human resources of the next generation that will protect classic motion picture films, which are a valued part of our cultural heritage." (Itsukage)