In cooperation with printing companies, KADOKAWA is working.to digitalize the editing and production processes for published content which in the past have been carried out on paper
Proofreading is performed using digital data on a tablet—instead of paper-based proofreading—to make corrections and final proof instructions
Establishing a system that allows remote production and proofreading enables KADOKAWA to cater to the diverse working styles of employees and continue content production, even under the challenging working conditions presented by the COVID-19 pandemic
Until now, the production of published content such as books, comics, and magazines has been carried out by outputting the content of the actual page design (proof) onto paper for checking and editing. With the arrival of the COVID-19 pandemic it has become difficult for employees to come to the office, and KADOKAWA is working on the issue of how to make content production sustainable in a situation where it is difficult to produce content using the conventional process in which writers, editors, and printing offices pass along paper proofs for checking.
Conventionally, in the production of published content such as magazines, books, and comics, the standard workflow has been to exchange proofs output onto paper at each stage in the process, from manuscript creation to proofreading (checking of content) and final proofing (completion).

Since the final product will be a paper book, in the production process, too, it is better to output the content onto paper, so that it can be checked in a form that is close to the actual finish. Sometimes we may notice an error when the content is output onto paper that we did not notice when viewing it on a display.

"The biggest reason we've continued working on paper for proofreading is because it's a process that has been refined and perfected over the years, so there was never any need to change it," says Masato Ito, Director, KADOKAWA Production Management Division.

KADOKAWA is currently in the process of changing its production style and creating a system that will enable content production by exchanging only digital data, without outputting onto paper. Specifically, the process involves the exchange of PDF data instead of paper proofs, completing the entire process almost exclusively in PDF format until the final proofing stage, not only for manuscripts such as manga and novels, but also proofing of drawings and characters (lettering) arranged in the same layout as the actual paper versions to be published by printing companies.

Why is it necessary to do this? One reason is to promote work style reform. KADOKAWA has been driving work style reform introducing the idea of "Activity Based Working" (ABW), a work style based on autonomous action not constrained by time or place. In order to cater to the diverse work styles of individual staff members, we have created an environment and system that allows employees to work anywhere, either internally or externally, or from home. As part of this, we have been preparing for the digitalization of the editing and production process.

The impetus for accelerating this process has been the COVID-19 pandemic.

"On April 7, 2020, a state of emergency was declared in Tokyo and six other prefectures, which made it difficult to come into work. How could we continue our editing and production work in a situation where we can't produce content while working from home? In addition to preparing manuscripts by remote work, it became necessary to create an environment that would enable us to complete the entire process up to final proofing. Immediately after the declaration of the state of emergency, each editorial department and production staff began responding on an individual basis exploring ways to continue working from home. Although the provision of notebook PCs and other devices was progressing throughout KADOKAWA, we had not envisaged the need to enhance home internet connectivity and provide devices such as tablets, so we were suddenly forced to improve the working environment, mainly through our General Affairs and ICT departments." (Ito)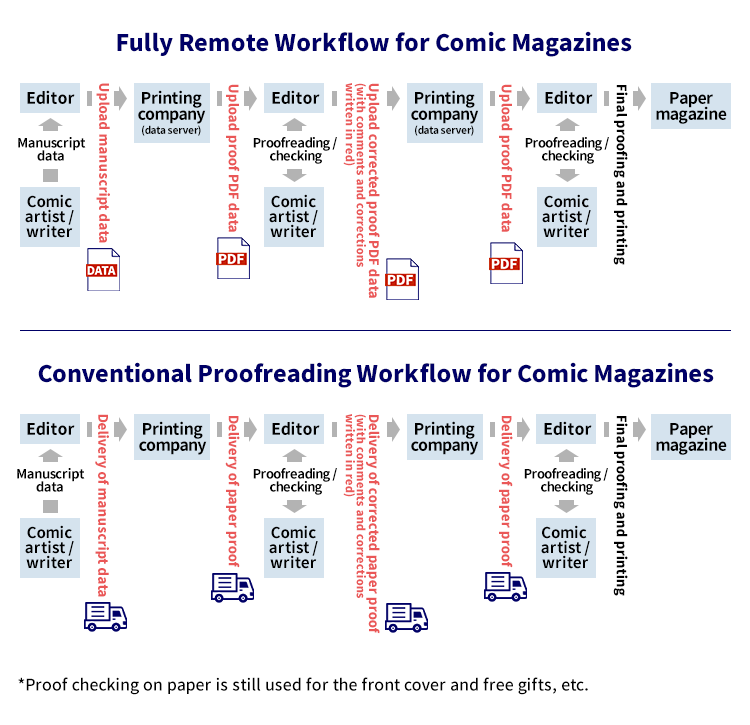 In terms of specific details, firstly various physical equipment was required to implement this transition. By distributing company-specified tablet devices to staff involved in editing work and standardizing device specifications and applications used during proofreading, we were able to establish suitable conditions in terms of equipment.

We then redesigned all of our editing processes to enable them to be completed using digital data. The diagram above is an example for comic magazines. All interactions between editors and printing companies, editors and writers / artists that were previously done using paper proofs are now all done in PDF. The paper layout is checked on tablets, and comments and instructions for corrections are also circulated by adding annotations in red to PDFs using a pen tool, etc.

"Even though we have switched from paper to digital, we have not reduced, fundamentally revised or changed any of our processes, so the process itself has essentially not changed. You could say that 'paper has just been replaced by a tablet.' Even if the format for proofreading changes, the process has not changed, so the parties concerned have been able to transition without confusion. As a result, we have been able to establish a system to continue content production even in situations where physical attendance is made difficult by the COVID-19 pandemic." (Ito)

The digitalization of the editing process is progressing for comic magazines in particular. In December 2020, the Production Management Office formulated a set of guidelines called the "Comic Magazine PDF Remote Service." The guidelines aim to enable a completely remote process for comic magazine editing, and define how employees can work anywhere, inside or outside the company, using a PC or tablet. By March 2021, 14 of the 18 comic magazines produced by the KADOKAWA Group were being digitally proofread in line with these guidelines.

With the establishment of the guidelines, we are also working to discuss and unify the quality standards that each editorial department has agreed independently with various printing companies.

"I think that establishing uniform rules for the KADOKAWA Group will lead not only to the digitization of the Group's editing and production processes but also set a precedent for the digitalization of production processes for the entire publishing industry, eventually leading to the establishment of publishing industry standards." (Ito)

Following on from comic magazines, we are now advancing digitization in the production of ordinary books. We are pursuing the sustainability of content production itself by establishing a system that allows editing and production work to continue in a remote environment, catering to various work styles and lifestyles.